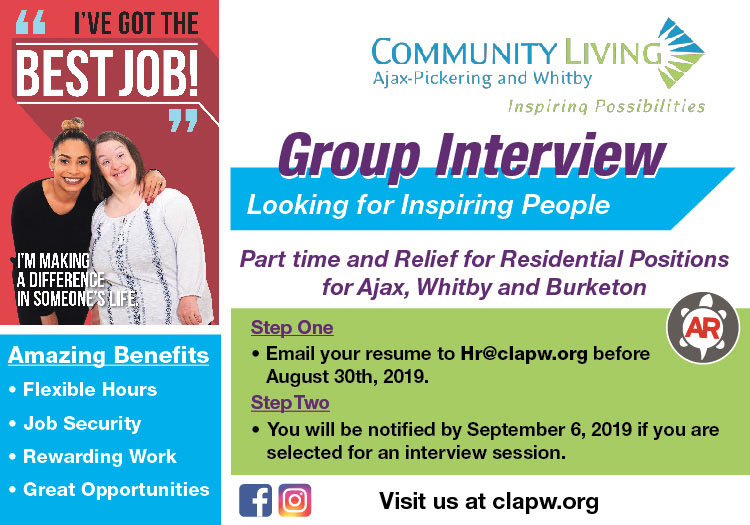 We are hosting a GROUP INTERVIEW in early September.  Interested parties should send their resume to HR@clapw.org by August 30th for consideration of an interview.  Check out the August edition of Snapd for more information.  
Community Living Ajax-Pickering and Whitby is a dynamic, innovative organization committed to a vision of including adults who have an intellectual disability in our community. We offer support to over 400 individuals and their families including residential and day supports, assistance with community employment, community supports, respite care and working in an industrialized setting. Community Living Ajax-Pickering and Whitby provides meaningful employment to approximately 150 full-time, part-time and relief staff. Our employees promote a professional, honest approach by ensuring that the integrity of our service is upheld by their accountability. Various departments within our organization:
Administration
Finance
Human Resources
Residential
Vocational
Maintenance
Forest View Treatment Home
If you possess these positive attributes we invite you to email, fax or mail your cover letter and resume stating the position of interest. Thank you for your interest in Community Living Ajax-Pickering and Whitby. Please note that only those applicants selected for an interview will be contacted.
Current Opportunities
Job Posting 19-000 PT Residential Counsellor
PT Job Posting 19-001 PT Residential Counsellor Burketon
Community Living Ajax-Pickering and Whitby is an equal opportunity employer. HR Department Email: hr@clapw.org
Fax: (905) 427-3310 (Any faxes pertaining to Careers please reference – Attention: HR Department on all documents.)