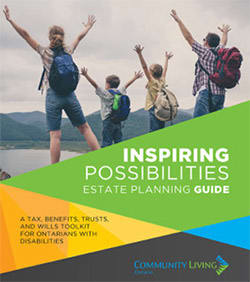 People who have a disability and their families now have an online, comprehensive toolkit available to them as they consider their financial objectives and obligations. Community Living Ontario launched the Inspiring Possibilities Estate Planning Guide: A Tax, Benefits, Trusts, and Wills Toolkit for Ontarians with Disabilities on September 15th, 2016.
Written by legal, tax and accounting professionals who specialize in supporting people who have a disability and their loved ones, the 112-page, seven-chapter digital book provides pertinent information on various topics including Will and Trust planning, consent, capacity and legal decision-making, the Ontario Disability Support Program, the Disability Tax Credit and the Registered Disability Savings Plan.
"When writing this book, we wanted to clearly lay out the components of a person's plan and it's written in such a way that if families want to read it cover to cover they can, but they don't necessarily need to do that," said Brendon Pooran, principal lawyer at PooranLaw Professional Corporation and co-author of the Inspiring Possibilities Estate Planning Guide. "If they want to refer to information specific to a Henson Trust, they can easily look at the index and flip to that page."
People who want to know their options and when to seek out professional support can visit 
www.PlanInspiringPossibilities.ca to download a free copy of the guide.  Or click this link for immediate access. Estate Planning Guide.
"Planning for the future of a loved one who has a disability can be overwhelming and difficult for families, and this free online resource outlines what to consider when planning an estate and also discusses available community supports, government funding and opportunities for tax savings," said Chris Beesley, Chief Executive Officer of Community Living Ontario. "The Inspiring Possibilities Estate Planning Guide will assist people to become more knowledgeable about estates and to develop questions prior to meeting with legal, accounting and investment professionals."
The Law Foundation of Ontario contributed $15,000 towards the development of the online resource.