OUR VISION
Inspiring Dreams, Possibilities, & Inclusion
OUR MISSION
Supporting people with developmental disabilities so they can live full lives and be effectively, safely, and inclusively supported in their own communities.
OUR VALUES
Honesty, Integrity, Transparency, & Accountability
MISSION

Community Living Ajax-Pickering and Whitby are dedicated to supporting people with developmental disabilities so they can live full lives and be effectively, safely, and inclusively supported in their own communities.  We serve that mission by offering a broad range of personalized supports and services, closely aligned with their individual goals and choice of where they want to live, learn, work, and enjoy their leisure time.
VISION

Community Living Ajax-Pickering and Whitby envision a society where everyone belongs – living in a state of dignity, sharing meaningfully and safely in all elements of community life, and having opportunities to participate effectively.  In our future vision, there is genuine inclusion for all.
We see people pursuing their goals and dreams, well-satisfied with their lives.  We strive to build a community where anyone with a developmental disability enjoys equal rights, respect and acceptance, a  sense of self-worth, and opportunities for growth.  In this future, the abilities, uniqueness, and innate value of each person are celebrated, supported, and acknowledged as essential to the completeness of the whole community.  We will do whatever we can, within our means, to help make this vision a reality.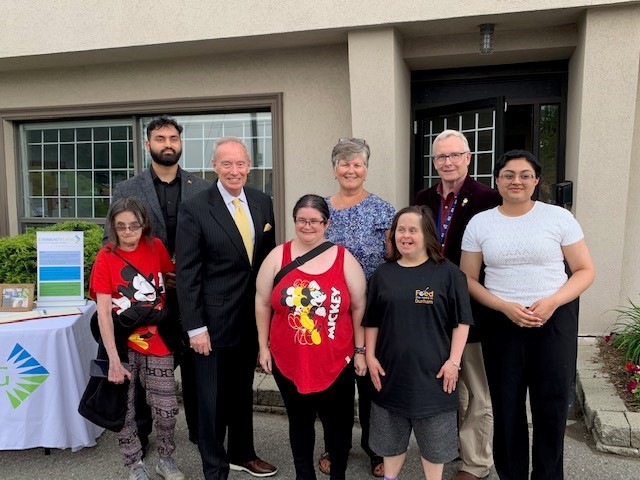 Our vision for CLAPW as an organization is to be a recognized and innovative leader in the delivery of services, offering a comprehensive spectrum of relevant support and services to people with developmental disabilities.  This cannot be accomplished without a close partnership joining staff and families in a circle of support around each person.  We also aspire to be a  model for quality, innovation, and accountability in our service sector and across the organization.
VALUES 
      We believe in and make critical decisions based on the organization's core commitments to…

A mission is defined by a person-centered focus and a culture of respect.  CLAPW's fundamental purpose stems from the needs of the individual people we support, their dreams, and their preferences.  We take care not to impose our own personal notions of what makes life fulfilling.  At the same time, we remain ever-mindful of the safety and well-being of those we support.  This includes being safe from harm or abuse of any kind, as well as empowering supported individuals to make choices within safe environments.  Caring and respect are the foundations for all we do. Purposeful pursuit of meaningful inclusion for those we support.  The agency's commitment to access and inclusion flows from its response to an individual's dreams, goals, and need for support within an environment of understanding – one that makes everyone feel valued, wanted, and socially accepted. 
Through our work, and by example, we help build a culture premised on these values: consideration of one another, recognizing each other's differences and treating others the way we would wish to be treated. Always acting with honesty, integrity, transparency, and accountability.  Honesty, integrity, and transparency provide the foundation for trusted leadership and relationships.  Accountability is not a one-time thing – it's an all-time thing and applies across the organization.  We believe in doing the right thing, whether it's noticed or not, even when it may be unpopular. Strong governance and leadership based on these principles will ensure the organization is capable, well-managed, and effective in providing services.