We are the H.E.R.O.E.S self-advocate team. We advocate for our rights and rights of other who trust us to be their voice when needed.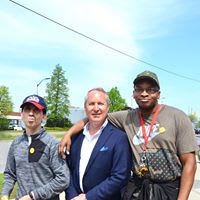 In 2018 the H.E.R.O.E.S. group hosted the" Bigger Than That" Bully Prevention & Empowerment presented by country recording artist Ryan Laird.
This group prides themselves on giving to the community, and have hosted fundraising movies throughout the year, have given to Food Drives and local charities.   They adopted a senior for Christmas and filled a stocking for them.
They became partners with the Kids Safety Village in Whitby and decorated a house for Christmas and Easter.   They are looking forward to decorating Halloween and Christmas 2019.
The H.E.R.O.E.S. group have also made a connection with the Advocate A Team at Durham North Community Living. They have visited with them and had lunch meetings.  As well, they have visited the H.E.R.O.E.S group throughout the year to share new ideas.
For more information about this self-advocate group contact info@clapw.org